ATTENTION !!!
We have puppies !!! You can have a puppy from this pair - brindle males :
Mother: Shakira Ken Amana Father: Ichiro Hikaro Zuki

And some red puppies from litter "B" Dairin-sou Nippon Shiawase
Mother: Ginsekai Ken Amana Father: J Hachiko Go Byu Ti Sawa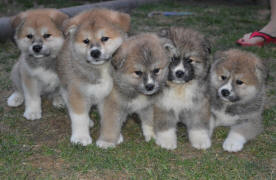 For more info, please contact us.