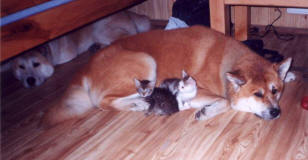 Dear Mrs. Mandová,
I would like to say a word or two about my darling akita, Shinya Ken Amana who was born on 9th February 1999 to your dogs (father: Ashi Tozama, mother: D´Myoko Ken Amana). We call him Sambi, which means "Praise the beauty," in Japanese. Despite his age (8 years), he remains perfectly healthy. We take him to the vet only to have a standard vaccination because he has never been ill.
My mother and I devote most of our time to take care of him. I go for a fifteen-kilometre jog to keep him fit every day. At weekends we go for long "exploration" hikes to the woods around the city of Brno. We have covered about 30 kilometres this weekend. Sambi has a perfect figure. He is simply a muscular "sportsman" (his buttock is almost the same as Roman Šebrle´s – the popular Czech sportsman). Sambi is even able to climb the shooting stand in the woods. Moreover, he is allowed to walk without a lead in a game park because he is not interested in the other animals (not only deer and wild boar, but also other dogs). He is rather selfish. He enjoys visiting the Zoo of Brno where he always behaves as a highly cultured dog.
As I have said, he does not notice anybody and anything but himself. He is probably afraid that we could take care of another pet. He is not aggressive at all. Sambi if fond of children and women, but he is reserved to the unknown men. He has a few strange fads. He loves female perfumes and loves cats, which consider him another big cat and keep on following him whenever they see him. His hobby is walking round our flat at night to check if all the members of our family are in their beds. He is a great guard as he as proved several times by protecting my mum against a gang of the Romanies and helping me to get rid of a deviant.
Sambi is an extremely intelligent dog. He recognizes colours and his vocabulary is quite large. Among others he knows the names of all his toys (and there are a lot of them) and parts of his body. He lets us clean his teeth, shorten his claws and perform other operations. He even demands some of them, such as varnishing over his claws, combing and brushing his belly, sitting on the lap and caressing (he makes our guests do so). He loves when I sing Japanese songs to him.
I could write about Sambi for hours because the dog is absolutely perfect. I hope that you will rear the same perfect puppy for us in future.
Yours sincerely,
Eva Ellederová