P´TORAMASA D´OBAKOSOW, red
"Toram"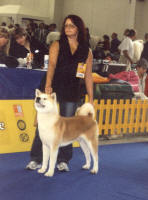 import from France, born 30.5.1999, † 1. 1. 2014
male: ICH HOKUUN NO RYUSHO GO WATANABE
bitch: ICH MASAHIME GO AIZU WAKABASOW
Interchampion !!!
Czech champion, BIT /winner of 5. FCI gruppe on International dog show in Prague in 2002/, 5 x CACIB, 4x r.CACIB, 3x BOB, 14x CAC, CAC- VDH, CAC-AC.
Club winner 2003, Club champion, Winner of Special Akita show in 2002, 2004 and 2005 !, National winner 2003
Club winner and BOB on Club akita show in 2005 !
2nd place in competition Champion of champions in 5. FCI gruppe in 2003
On European Dog Show in Bratislava in 2003 (japan Judge) in champion classe 5th - 6th place (of 15 males)
Full dentition! Never had long haired puppy !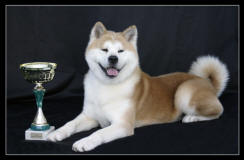 Offsprings: